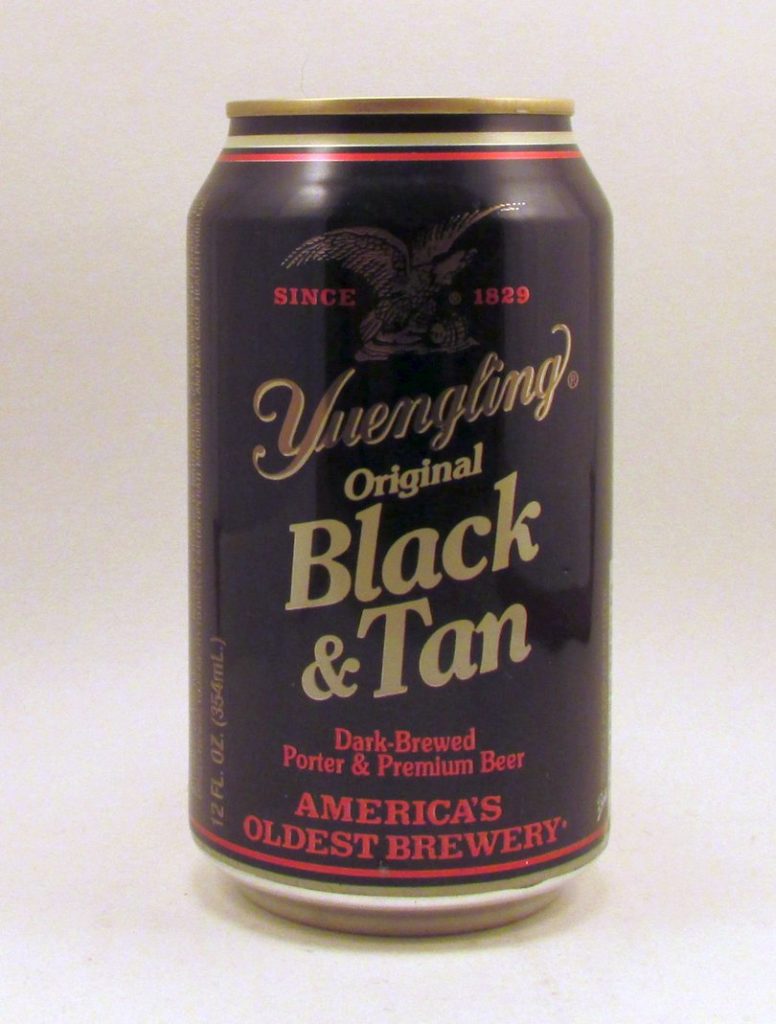 Goofy, that i haven't reviewed this one yet. It's a staple beer for me, always have some on hand. Usually, the beers i review are 'spensive and high-alk so i only have a few at a time, at most. But for regular old sit-and-have-a-beer times, Yuengling's Black & Tan is the most important beer in my house. So at long last, here's some chatter about it…
A Black & Tan is normally understood as 1/2 lager and 1/2 stout, though there are other places which do it different. In any case, it's blended beer. A good bartender can make you a B&T which actually stays separated in the glass before you drink it. once you drink it, of course, it mixes together. Or, you could buy it in a bottle (or can) pre-blended. This is what Yuengling does.
For years i avoided Yuengling because i've had some Chinese and Japanese beers and they just didn't wow me. Lol, come to find out that "yuengling" is a German name, who would assume that? But the stuff is made in Pennsylvania, the brewery's been independent since 1829, and they are one of the few true and blue independent family-owned breweries who never got gobbled up by a corporation.
That's a big reason why i buy Yuengling, now that i know it's not made in Shanghai, and now i know that my purchases help keep a major indy brewery going. For general consumption, their lager is darn good, and priced nice at $10 for a twelver. Their IPL is good, and they come out with seasonal things all the time, and i frequently try those, just because their B&T is so integral to me as a utility beer.
On its own, YB&T is a good beer. It's got the attacking quality of stout with the friendly handshake of a lager, the oats and sour and pumpernickel of the stout blended with the barley and light hops of the lager. For those who remember the brief fashion of dark beers in the 1980's, this is the culmination of that fad. Sweeter than most, damn near opaque in color, a heavy taste in the mouth which invites cheddar and rye crackers. Pretty sweet but pleasingly heavy, on its own i'd rate this at 6.7.
For just sitting around watching a game, you don't want hi-alk and some people can't afford to casually quaff craft beers at $11 per sixer. I can't, anyway. That's where Yuengling's Black And Tan comes in. About 3 years ago i discovered something about YB&T, something amazing which no other beer can do. This beer can be used as an ingredient to make ANY other beer tasty. No lie, ANY other beer. Obviously, you don't want to add this willy-nilly to a beer which outranks it… i'm not going to try mixing this into a Smuttynose, for god's sake.
But for reals: i tried it with over a dozen beers and it works every time. Just pour a 12-oz beer into a 16-oz pint glass, then top off with Yuengling's Black & Tan. The injection of YB&T takes over, you can see the dark brown cloud mixing in as you pour, and the taste is worlds beyond the original substrate beer. And further no lie: i went on a quest, or more accurately i went on an anti-quest, to find the crappiest, cheapest beer i could find. Works every time.
Pabst, Old Swilltaukee, Genny, Busch, Rolling Cock, Swilltaukee's Worst, Hamms, Coors, Budweezer, Swiller, and many more. I could not find a beer cheap enough to avoid YB&T's civilizing influence. Most of them were undrinkable on their own, but with just a few ounces of Yuengling they're actually delicious. This is the secret of YB&T, one 12er of this turns a 30er of crap beer into something you can drink and actually enjoy, and it doesn't break your debit card in half.
You don't have to take my word for it. Try it yourself. Obviously, don't go to your regular beerstore and pick up some PBR. You don't want them to think less of you from that moment on. But stop at a corner store and pick up the cheapest thing they have, the most nasty and crabshacky thing on the shelf. Try it naked first, spit it out of course, then add a few oz of YB&T. Voila! Sudden craft!
Well, it's not craft beer, and it's not great beer, no brainchild of any brewmaster here, but for just-havin-beers, this secret trick of YB&T transforms rote sipping into something you can enjoy tasting. Or at least drink without gagging.
The later part of the anti-quest has been to try YB&T mixed into light beers, known as the crappiest of the crap, and sure enough, this stuff makes a light beer tolerable.