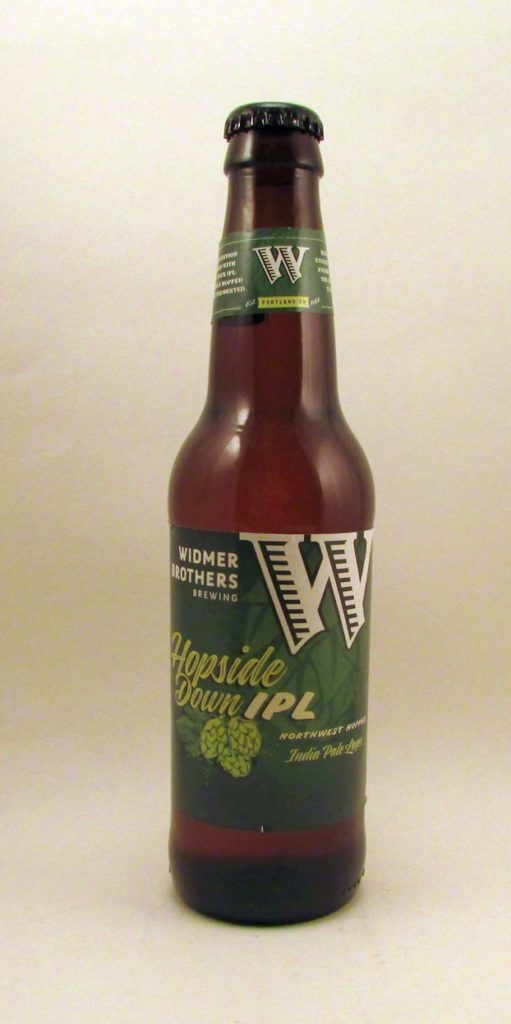 Another hop-op-along from the haunts of Portland in Oregonia, this time it's an IPL, which is ridiculous but everyone thinks that if you use the letters I and P then it'll sell better. But for a reality check, there is no such thing as an "India Pale Lager". There's not even such a thing as an India Anything in beer, besides India Pale Ale. The whole idea is that an ale which is top-fermented can be sealed in barrels in London, and packed onto a ship bound for India. On the way the malts and water and yeast turn it into beer. And it's hopped so strongly because it's crappy beer, with all that sloshing around for 4 months on the ocean.
You can't brew a lager on a sailing ship. Just want to make sure you understand clearly that no lager, not even a highly hopped "pale" lager, has anything to do with India, whatsoever. And IPA for that matter, has strong hops to mask the crappy beer, not as a culinary delight for connoisseurs. It was intended to be cheap and barely drinkable for the British occupying forces in India, and soldiers, as we all know, will drink anything not clearly labeled "Poison".
Today, the reverse is true. People are making pale ales with actually good beer malts, and not fermenting it in dark rat-infested cargo holds where the constant pitching and rolling ruins the beer. So there's no need for all that hoppiness today. Now, it's just tasty.
The name of this one, "Hopside Down" is just as absurd. It's not an IPA brewed upside down, it's just a lager brewed like a normal lager, with the fermentation happening at the bottom of the chamber. The only difference with this lager is they jammed a bunch of hops in there. It's a hoppy lager, that's all it is. Nothing "India" about this at all, other than in the feeble minds of marketing idiots.
Just so you know.
Now on to the beer. As it happens, i prefer lagers and i like IPA's because of the strong hops, so this one is right up my pants leg. The goofy popularity of IPA's has led many micros to make hoppy lagers, and although i roll my eyes at their stupidity when they try to call one an "IPL," the fact is that this type of beer was made for me.
Plenty of fun info on the bottom of the carton, where you can only read it AFTER you've bought it, heheh. There's a nice drawing of their brewery, and they note that it's "under the Fremont Bridge" so we can only assume that the Widmer Brothers are trolls. Hey, i don't care if they live under a bridge and eat nanny goats. I don't have a goat. And i don't judge lifestyles, only beers. Could be orcs for all i care, just keep the hopped-up lagers coming!
From the carton, this's got Pale and Caramel malts, they used Cascade and Alchemy hop varieties, and there's a number for "apparent extract" which i have no idea about. But, what i do know about is the IBU's which are at a healthy 65, and the alk which is at a swarthy 6.7%. And there's another number, "Color," which is apparently measured in something called an "SRM" whatever that is, and this beer has eight of those.
It is pale for a lager, nicely golden-yellow, has a good smell to it, and the taste is not as crisp as a real IPA, but rounder and sweeter in the mouth, almost something you can bite into, which is what i like about lagers in general. Hops are pretty nice but seem lighter than that 65 IBU rating would suggest. That's the inherent problem with hopping a lager way up high: there's more solid beer body which just absorbs the bitterness. With an ale, the body is so slight that the hops are swimming around on their own, unfettered and free to attack.
So it's a tougher balance when you try to hop up a lager. These Oregonians have pulled it off nicely. Mixing in pale malts leaves some hops on the loose and yet the mass of the beer is pleasingly hearty. Like i said, this kind of frankenbeer is just right for me, and i love this example muchly. It's nearly buttery, so velvet smooth and richly flavored. I recommend this for human consumption. In moderation, naturally, with that 6.7% alk lurking inside.
At $9 for a sixer, this is one of them crafties which is worth the premium, and have no trouble awarding it an 8.5 rating. Just wish they'd stop calling it an IPL, grow a ball and make up your own brand name for this kind of beer, wouldja? Don't be a pantysniffer trying to coat-tail the IPA brand. Your beer is better than that. You are better than that, Widmer Brotrolls.