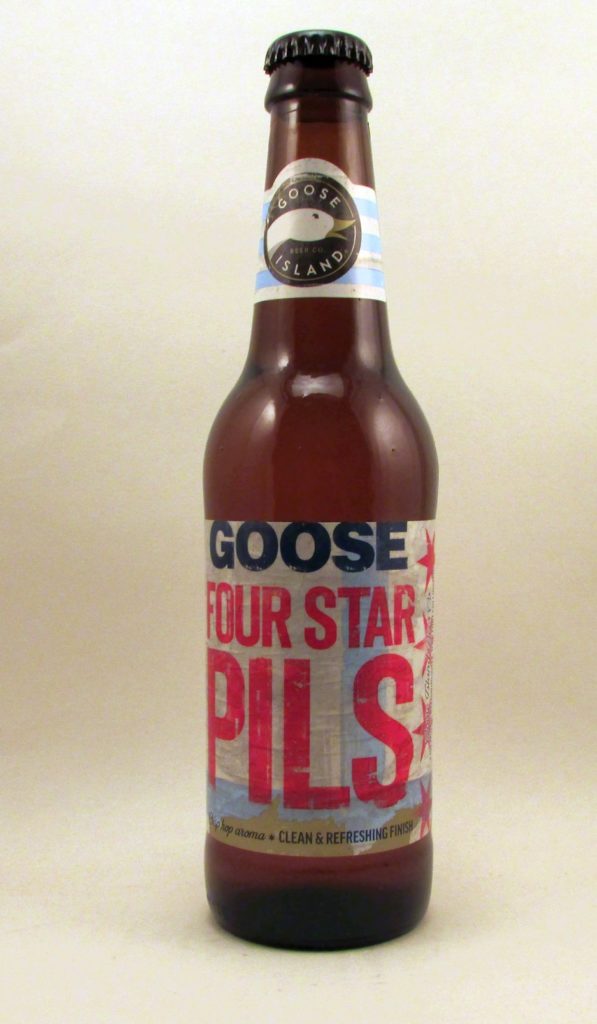 Not a regular customer for Goose Island, since i think it may be a zombie craft brewery, eaten and digested by one of the major commercial brewers. And not a regular pilsener drinker, they just don't have the bite nor the heft that i look for in a pricey beer. A fun side-note: their phone number is 1800-GOOSEME. But, to round out a pick-your-six this was the best non-IPA goose left, so let's see if it turns out to be a duck instead.
Label calls it at 5.1% alk and 44 IBU's, but the label also says it's a lager… they must be considering the pils malts in the naming here. Very bright and clear color, spot-on golden. Blurb says it's got "crisp hop aroma" and "clean & refreshing finish" and the first one at least is true. The smell is good hoptown, citrus with a layer of composting straw, if you know that pungent smell you'll know what i mean, and if you don't you'll think that's nasty, but it really isn't a bad smell.
The taste bears out the rest of the blurb, i would call this crisp on the back end, but also crisp right up front as well. In fact, the attack is crisper than the finish, which is a little more wet. No mention of which variety of hops used, but they do come from their own hop farm in Idaho, which is a ways away from the three brewing locations listed: Baldwinsville NY, Chicago IL, and Fort Collins Colorado.
Not a bad beer, i'll rate it as if it is truly a lager, in which case it's pretty darned hoppy, and the malt body is not as punchy as one would like in a lager. Like the hoppiness but would like more weight, this beer seems more trendy than serious. Rates a 6.7 for not sucking terribly.