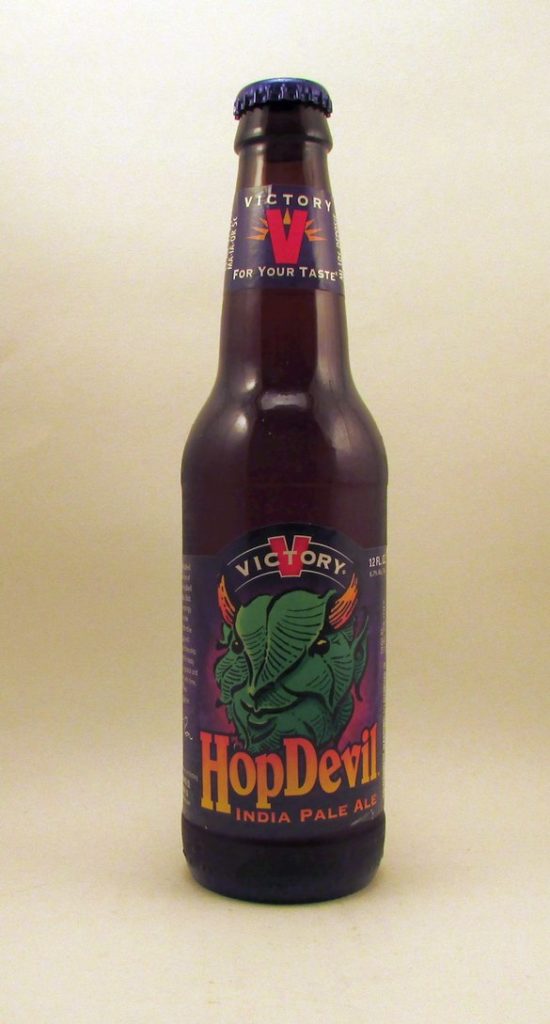 The devil on the label doesn't look all that menacing, but then again this is a Pennsylvania beer and there's no reason to go scaring the Amish neighbors needlessly. Not a very pale ale, in fact orangey and well on the way to amber. Light head, good bubblys streaming upwards, and a decent piney noseful of aroma. But the proof is in the taste, and this 6.7% alk IPA is crammed with hops and then finished with hops and let the devil take the hindmost.
No IBU number on the bottle, but wow is this little green demon hoppy. The color suggests that the beer body should be solid, but i really can't tell much about it, under the shadow of an Erebus of Hops. A fairly strong beer, but should be refreshing enough for a weekend on the shores of a burning lake, even if that weekend lasts a thousand years.
Hats off to Victory Brewing, they've entered a fast horse in the Hoppier Than Thou Steeplechase. A heavy beer, which i like for the weight even though i can't really get much of a taste of the malt side of the equation. So not a Summer drink, but at least they didn't whimp out. If you're going to call it Hop Devil, then you better make damned sure you get that side of the equation right.
Lacks the balance that makes my favorite IPA's excel, but they did what the label says they tried to do. Wow, that's some hops there, Mr. Scratch. Without that balance the rating will suffer, but if you're a fan of that Steeplechase, then try this one out. My call is a rating of 7.3 because i like the mouthweight and i do, in fact, love all that hoppiness.